More than just an ordinary vacuum sealer.
Dual pressure sensors for unparalleled vacuum precision • preset keys for quick operation • vacuum pulsing for flash marination • liquid boil over protection • 24+ food groups with storage for 1000+ products • electronic logging of SOPs & CCPs • direct temperature recording of sous vide cooking cycles • label printing • and a HACCP Plan
Benefits of vacuum packaging food

Enhance Flavor

Maintain Texture

Preserve Moisture

Reduce Product Loss


No Flavor Transfer

Less Storage Space

Increase Shelf Life

Sealed Package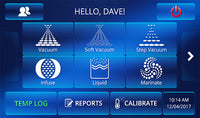 At the touch of a button.
Touch the preset key, place the bag in the machine, close the lid and watch – VacSmart™ does the rest.

Vacuum
Vacuum seals foods to extend shelf life for chilled storage or Sous Vide cooking.

Soft Vacuum
The software returns air in precise small increments, thus allowing the bag to conform slowly to the shape of the food. This preset takes the guess work out of vacuum packaging Fresh Sausage and Hamburger Patties.

Step Vacuum
Removes air in increments, preventing moisture from boiling which may harm delicate food items.

Infuse
Create your own flavors or enhance the flavor of fruit infused water, make cold brew coffee, or simply make Sangria in minutes.

Liquid
The chamber stays clean and dry with no boil over of liquids like soup, sauce or custard.

Marinate
Marinate proteins in a hotel pan in minutes, not hours. This preset pulses the protein 3 times, expanding the walls of the protein allowing liquid marinate to penetrate.
Food Safety Smart
Do what you do best, let VacSmart™ take care of the rest.
The interactive prompting of food preparation, temperature and pH level questions, eliminates the manual recording of SOPs (Standard Operating Procedures) & CCPs (Critical Control Points).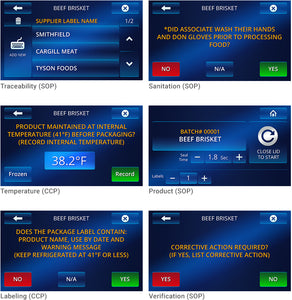 SOP & CCP report and label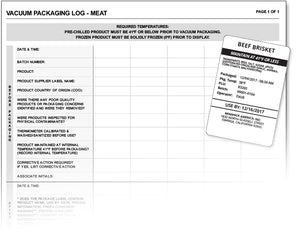 You will love your VacSmart™ machine. But your health inspector will love you even more.
There are two groups of interactive questions, Before Packaging & After Packaging. The questions are preset, selectable, and customizable to your application.
In the background, VacSmart automatically records the Start Date/Time, Batch Number, Product Name, Operator Name, and End Date/Time.
The programmable VacSmart™ label printer lets you label your products with fully HACCP-conform label information.
VacSmart™ is the only vacuum sealer that includes a HACCP Plan
Hundreds of customers have successfully written, printed, and submitted their HACCP Plan using HACCP-Portal.com. A HACCP Portal license is included with your VacSmart™ machine. We guide you through the process and do not send you to a referral center.
Do you need a HACCP Plan?
HACCP Lite
Fresh foods vacuum packaged, held at 41°F (5°C) for under 48 hours may not be subject to submitting a HACCP Plan. Check with your local regulatory agency.
HACCP
Fresh foods vacuum packaged, held at 41°F (5°C) for over 48 hours and resold will be subject to submitting a HACCP Plan. Check with your local regulatory agency.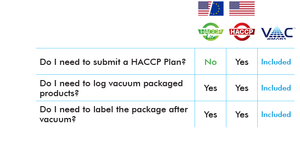 We use our passion for design & technology to inspire chefs all over the world.
• Deep Chamber (marinades & liquids)

• Seamless Chamber (hygienic)

• Tall Domed Lid (for large products)

• Pop Out Seal Bar(s) (easy cleaning)

• Temperature Probe (optional)

• Tray for Liquids (air dry design)
• Label Printer (optional)

• eLogs for SOPs & CCPs (PDF file)

• HACCP Plan

• Leg Extensions

• 5" Touch Display

• Busch® Oil Vacuum Pump